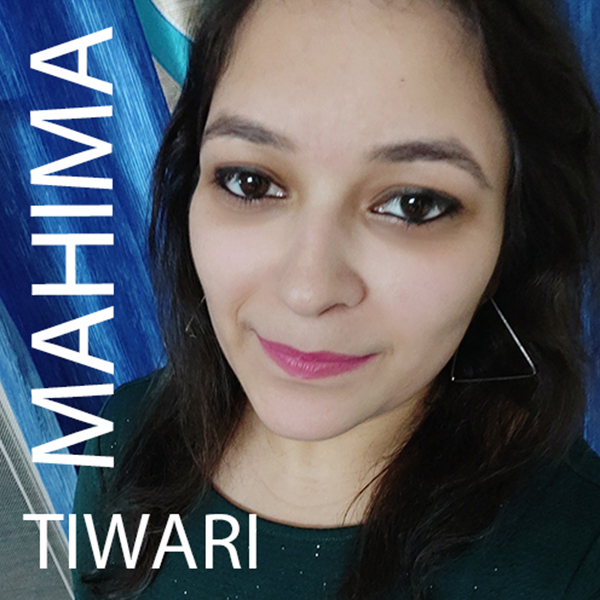 What is your background and when did your passion for art and illustration begin?
Well, I am an engineer and I always had this keen interest in recreating stuff taught in the art shows throughout my childhood but I never thought of becoming an illustrator until my job. Since the past 2 years it's not even a single day that I have not created anything. Calligraphy is something that gives me peace and satisfaction that yes I am doing something that I always wanted to.
Who / Where do you take your inspiration from?
Like any other amateur artist, I used to linger on social media going through all the fancy lettering posts and procrastinating until one day I decided to finally give it a try. Definitely social media has been a great source of learning for me, it was always joyful to see people around the world doing such great work. So I guess I was lured to try lettering and I think that was the best thing that ever happened to me.
What, in your opinion, is the hardest and the most rewarding parts of working in a creative industry?
Hardest, according to me is the feeling to be left out. We really never accept the fact that there is room for everyone in this creative industry and always get scared by the fact that we might not be able to be as good as so and so person or not get those fancy numbers of audience.
Amongst all of this, the most rewarding thing is the community which is so supportive. People here are like a family rather than competitors. If you seek for motivation, there is huge pool of motivation out there which can keep you going on your journey.
Do you have a favourite style?
Well yes, I am a fan of brush lettering since I started lettering in the first place and I still am but I have this enormous crush on copperplate and blackletter calligraphy these days. I can't get enough of calligraphy though!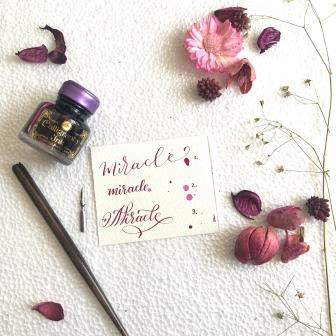 What are the most exciting projects you have worked on and what are you working on at the moment?
I believe I have had the best clients (yes everyone says that). The most exciting ones have to be the big chalkboards I made for marriages and birthdays. I enjoyed so much interacting and understanding my clients which definitely enabled me to create pieces that are so dear to them. Currently I am working on few really awesome commissions of personalised sunboard letters and wedding invitations.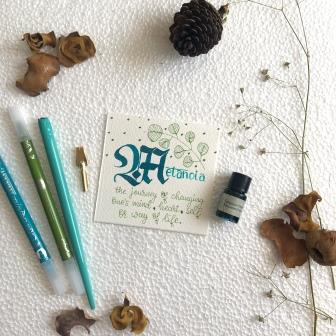 How does your work relate to your everyday life?
Calligraphy is something that I can use in almost everything. I letter on my notebooks, my notes, my phone covers, on handmade cards for my close ones and absolutely anything. This is the best part about lettering and about being an illustrator that you can find your canvas on literally everything around you. Everyone around me loves when I give them any personalised gift.
What are your favourite tools to use?
My favourite ones have to be brush pens, nothing tops them till date. I love to try all the different type of brush pens available out there. Other products on my list are Manuscript's ShimmerInks and nibs, I absolutely adore the way the artworks turn out using these. One of my favourite tool is also wax seals, it's the perfect way to give a personalised touch to any of envelopes or gifts.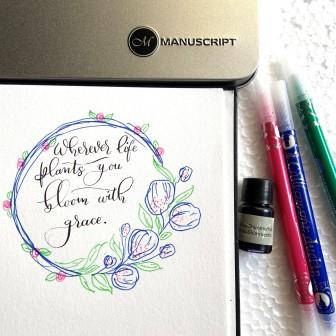 What would your advice be to people new to the creative industry and any tips on how to get started?
Pursuing your dreams can be a little rough sometimes, but one thing that this creative industry requires is honesty and love towards your passion. The main tip for any individual starting out here is to love yourself and your work, to never give in to the little failures that come across. Buckle up and work every single day in making yourself better and focusing on your journey. Try to learn from every individual out there, believe me every person can teach you something new. So I guess the best is to believe in yourself and give your all to your passion and not fall in the trap of procrastination.
To see more of Mahima's work you can follow her on Instagram @kala_arcade or check out our inspiration gallery HERE!