We asked our Artist of the Month Anni Engel to create a new step-by-step brush lettering tutorial for you all and she did not disappoint! She has put together this beginner friendly tutorial which uses two different artistic mediums, brush lettering and watercolour painting.
Follow her steps below and create your very own watercolour masterpiece! The beauty of this tutorial is that it allows you to improvise and add your own unique touch and style to your design!
So, what are you waiting for? Get your brush pens ready and lets go!
A list of products you will need:
Step 1
Get your paper and pens ready, we have used green, yellow, orange and brown in our example but you are welcome to choose the colours you want.
Take your Aquabrush Marker and create messy line star shapes varying in size, colour and placement. Then take your paint brush and dip in some water and here's where the fun starts - create flower petals by painting over the stars you have created. You can make the petals to any shape you like, round, oval, big or small.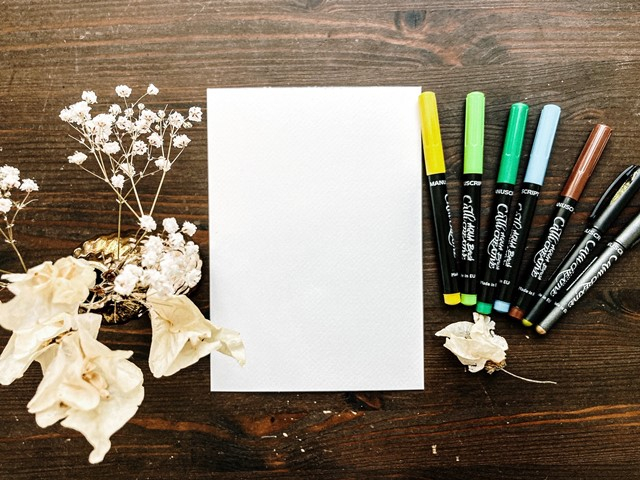 Step 2
Take a green Aquabrush marker and create some large and small smudge style shapes next to your flowers. We will now create some leaves so vary the amount and size as you like. Taking your paint brush, dip into some water and create your leaf shapes. If you would like some more definition in your leaf shape take your marker and fill in and add more colour.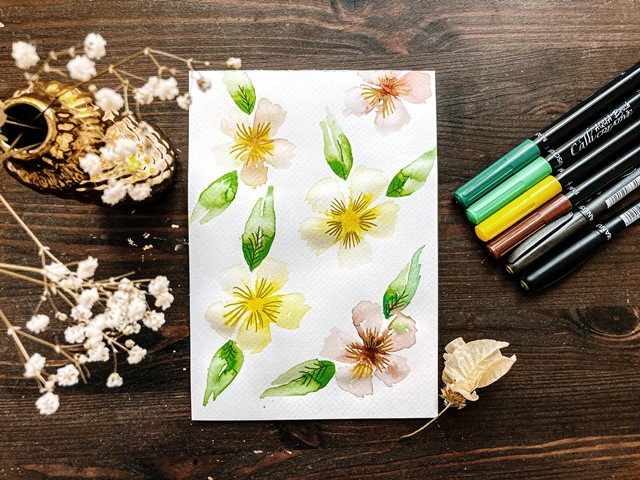 Step 3
Wait for your flowers to completely dry and then take your green and orange Italic Markers and add some line definition to your flowers and leaves. It's important your canvas is completely dry for this step as your Italic Markers may bleed through on a wet surface.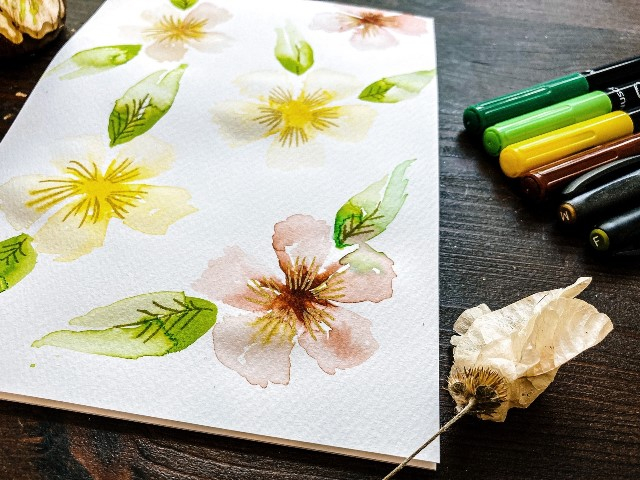 Step 4
Time for the final step, now if you're new to lettering you may want to create your outline in pencil first, so taking your pencil gently create the word "Creation". Take your black Aquabrush Marker and go over your pencil work. Now take your Black Italic Marker to add the final touches to your illustrations and create some additional line detail in the centre of your flowers for extra definition.
Finally, once your ink is dry take your eraser and rub out any pencil work that's still visible (unless of course you're a pro and went freehand, you can skip this step!)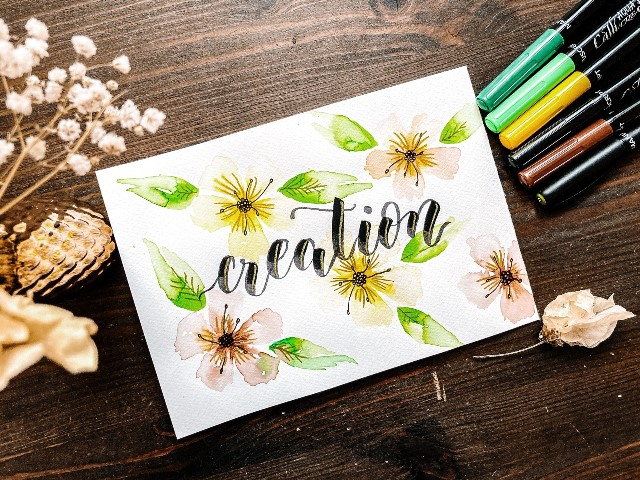 For more help and guidance with brush lettering and watercolour illustrations, CLICK HERE for free downloads and help sheets!
To watch Anni's step-by-step video tutorial on how she created this project, CLICK HERE