Meet our new Artist of the Month...Mubeenah a.k.a Artisan MP. Science Teacher by day and calligrapher by night, Mubeenah has always had a passion for handwriting and calligraphy and has been able to bring this passion to life. Read on to find out more about her journey...
What is your background and when did your passion for Calligraphy and Lettering begin?
Handwriting and calligraphy have always been a hobby for me. Even though most communication forms have become digitalised, the novelty of seeing nice handwriting or lettering will never die out.
I realise this more at school – as I am teaching and writing things on the board, you hear the not-so-subtle whispers of "that's so neat" and "it's like those notes you see on Pinterest". Noone expects a science teacher of all people to be able to write and draw diagrams you can make out so it's like a party trick.
Recently, my busy schedule of teaching and studying has meant that I have stopped taking orders for my small business. However, I take a morning every week where I just experiment with the many pens and markers I never got round to using and just create lettering pieces for fun. This has been so mindful and rewarding because there is no pressure to meet deadlines or create something I'm not 100% into. I create because I want to, it helps me take my mind off things for a quick minute and then get to share that to my feed. Sometimes you get so caught up with it, it's only when you take a step back and realise "I made that" and can really appreciate your own craft.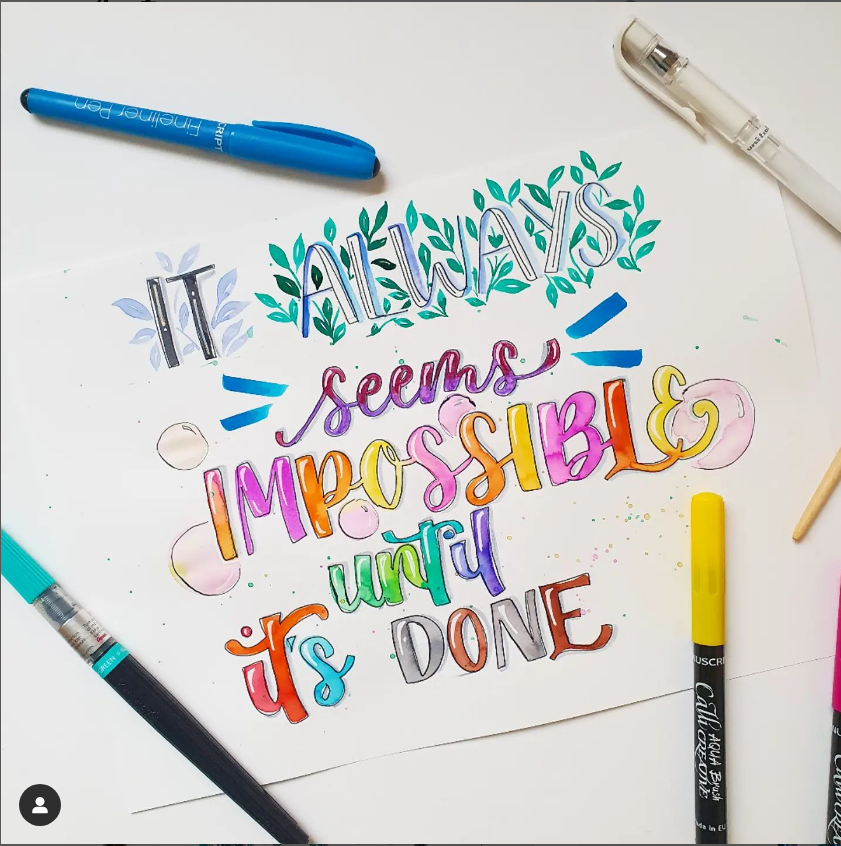 Who / Where do you take your inspiration from?
I have to say I owe an awful lot to Instagram – this is where I discovered so many different styles of calligraphy and lettering, art brands etc. People not only share their work but tutorials which is so useful and inspiring for someone always willing to learn and take time to make progress with their calligraphy.
Like this, I started creating my own content and posting it. Overtime, I learnt more about photographing my work, playing around with props and lighting to make my feed attractive to my audience.
What in your opinion is the hardest and the most rewarding parts of working in a creative industry?
The most rewarding thing for me is to be able to document my progress over the years through my Instagram portfolio. I get to share my passion for creating and get to know so many people through it. I'm the go-to artist in the family which allows me to try new things and experiment for our wedding stationery and party décor. It's adorable when my nieces and nephews want to sit with me while I create – they're like my little apprentices!
The hardest part is getting that engagement online. You want people to appreciate your work and to be discovered by other artists who can share their love for creating with you. When that doesn't happen, it's hard to stay motivated. I just tell myself that like me, people are busy – I don't always get to comment on every post I come across. The likes and comments aren't everything.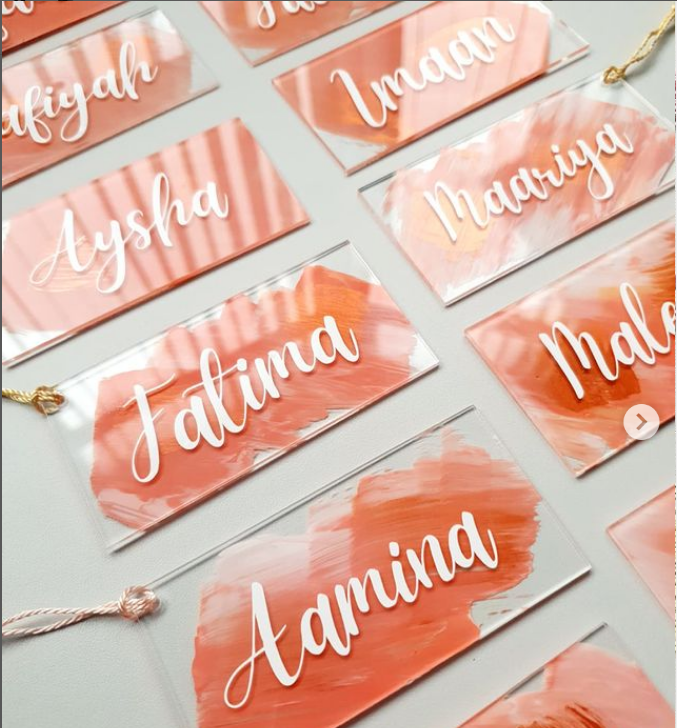 Do you have a favourite style?
To write, I love modern calligraphy or brush lettering – I think they are easy to learn, and you can be as free with it as you want to find your unique styles. I do however appreciate all the different scripts and try to have a go at them some point or the other. 
What are the most exciting projects you have worked on and what are you working on at the moment?
2021 was a great year for my small business – a lot of firsts in terms of my products. I created wedding entrance signs for the first time which was a huge honour. Everyone dreams of their perfect wedding so the fact that people chose to have me create for their big day is mind blowing. I designed sketchbooks, notebooks, and place cards. I had so much fun having creative freedom in making products both me and my clients love. This year is a lot busier for me and I don't think I can handle the pressure of taking orders. Instead, its time for me to perfect my skill, research and practise which is exciting because it means that when I come back to taking orders, I have so much confidence in myself knowing that I have worked to better my services.
It goes without saying that being a featured artist on Manuscript is a very exciting opportunity for me. Not going to act casual about it because its still very much an "is this really happening" moment. Its not everyday that the brands you have known and loved for so long recognise your work and choose to feature you on their page. A milestone for me indeed.
How does your work relate to your everyday life?
As I mentioned, I have a hectic schedule that keeps me very busy. I teach and study alongside my small business. So being able to express myself though the art of lettering and paining is so important to keep me motivated and to be completely honest, sane! It helps me to focus and finetune my thoughts, even if it is for 5 minutes – it's been something I have really come to embrace and grateful to have something I can turn to for my mental health. Even if it is mindless sketching and doodling, it helps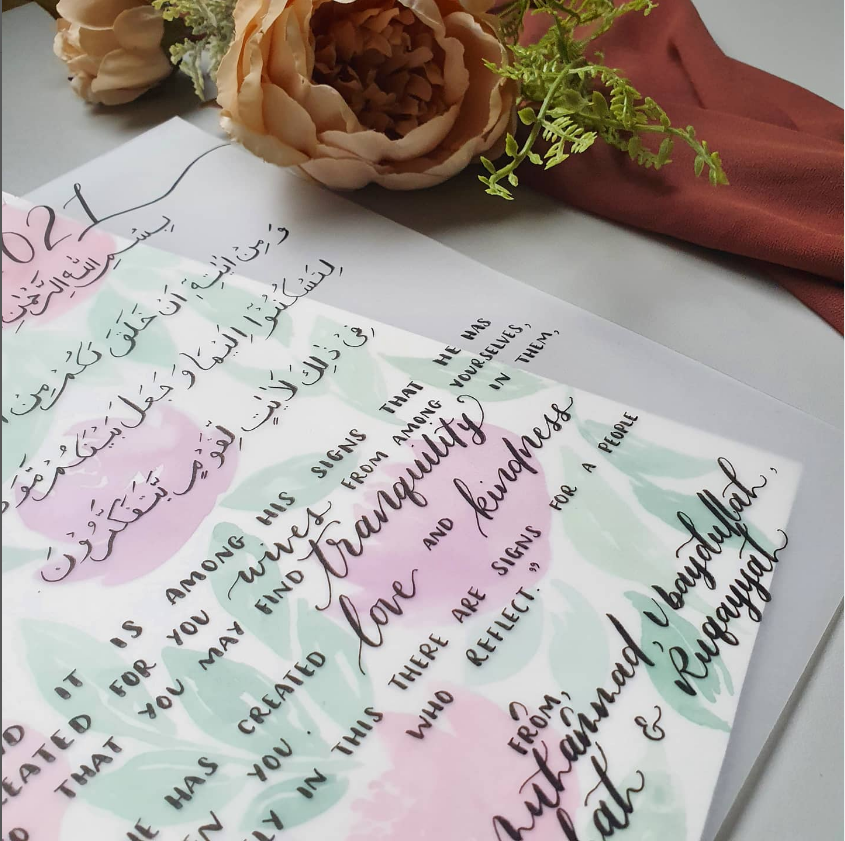 What are your favourite tools to use?
I must admit, I am constantly buying pens and brush markers. Sometimes it takes me a long time to even use them, so it changes a lot. At the moment, I am loving watercolour markers like the Aquabrush Markers – I can use them to make graphic looking lettering art. They blend so nicely which means that even with a few colours you can achieve so many effects. Some staples I always reach for a hard-tip brush pens and even watercolour paint to letter with. My goal this year is to really spend time learning the modern calligraphy script using inks and nibs – I think it is so beautiful and precise as opposed to the free style calligraphy I am used to. It looks so elegant.
What would your advice be to people new to the creative industry and any tips on how to get started?
My biggest advice would be that there are so many resources and tips available on all the social media – use them. Tutorials on lettering, tips on building your brand, photographing your work with good lighting – you don't have to try and navigate through this all by yourself. It's amazing that content creators share such content for completely free which was not available even a few years ago.
The other thing is never put so much pressure on yourself that it becomes a chore for you to create, or you create for the engagement because soon, you will fall out of love with something that was supposed to make you happy. Give yourself time to learn and improve. Enjoy being part of the creative community online by engaging with other artists and supporting them. All in all, do it because you enjoy it and want to do it. When this is no longer the case, take a step back.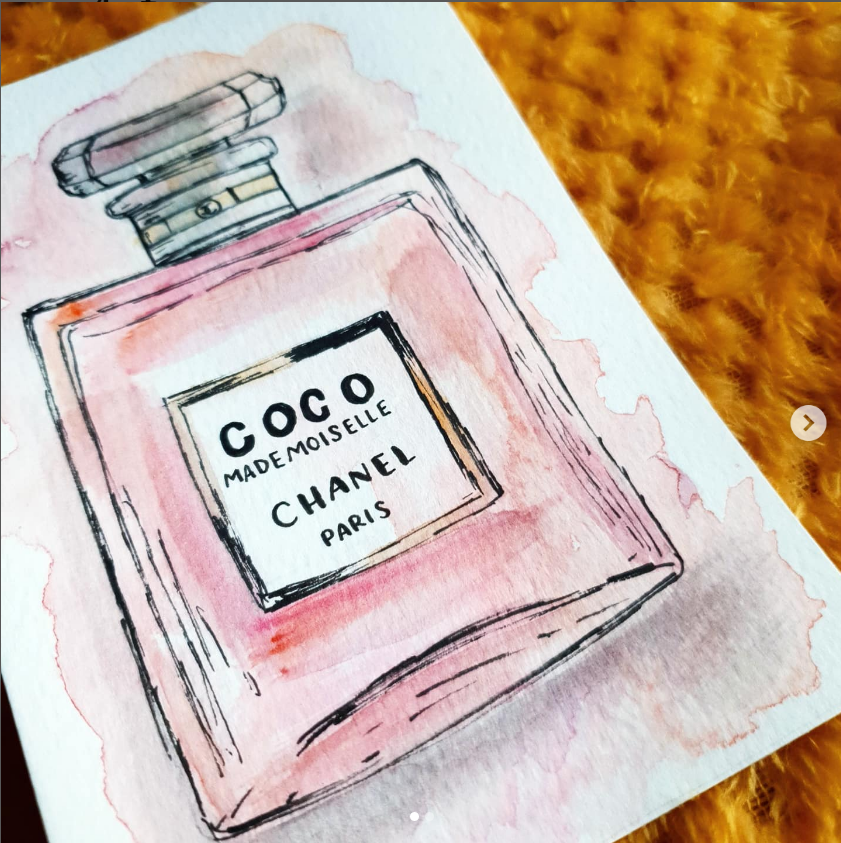 To see more of Mubeenah's work you can follow her on Instagram. Remember to follow @manuscriptpenco on Social Media where we will be showcasing her work throughout the month.