Meet our new Artist of the Month...Tarandeep Kaur a.k.a LetterandTell. After studying chemistry Tarandeep was longing for some creativity and fell in love with calligraphy. Read on to find out more about her journey...
What is your background and when did your passion for Calligraphy and Lettering begin?
I have a Master's degree in Chemistry. As a science student trapped in logic, I longed to be free from it in a way and surround myself with colours. I clearly remember telling my sister one day in July 2017 that I want to do something creative as I missed that badly given my science background. Few hours later, she came to me with her phone and showed me a video of somebody doing calligraphy on Instagram.
I found calligraphy approachable as it was everything I wanted in my creative pursuit- simple (as I thought at that time like most beginners), colourful and creative.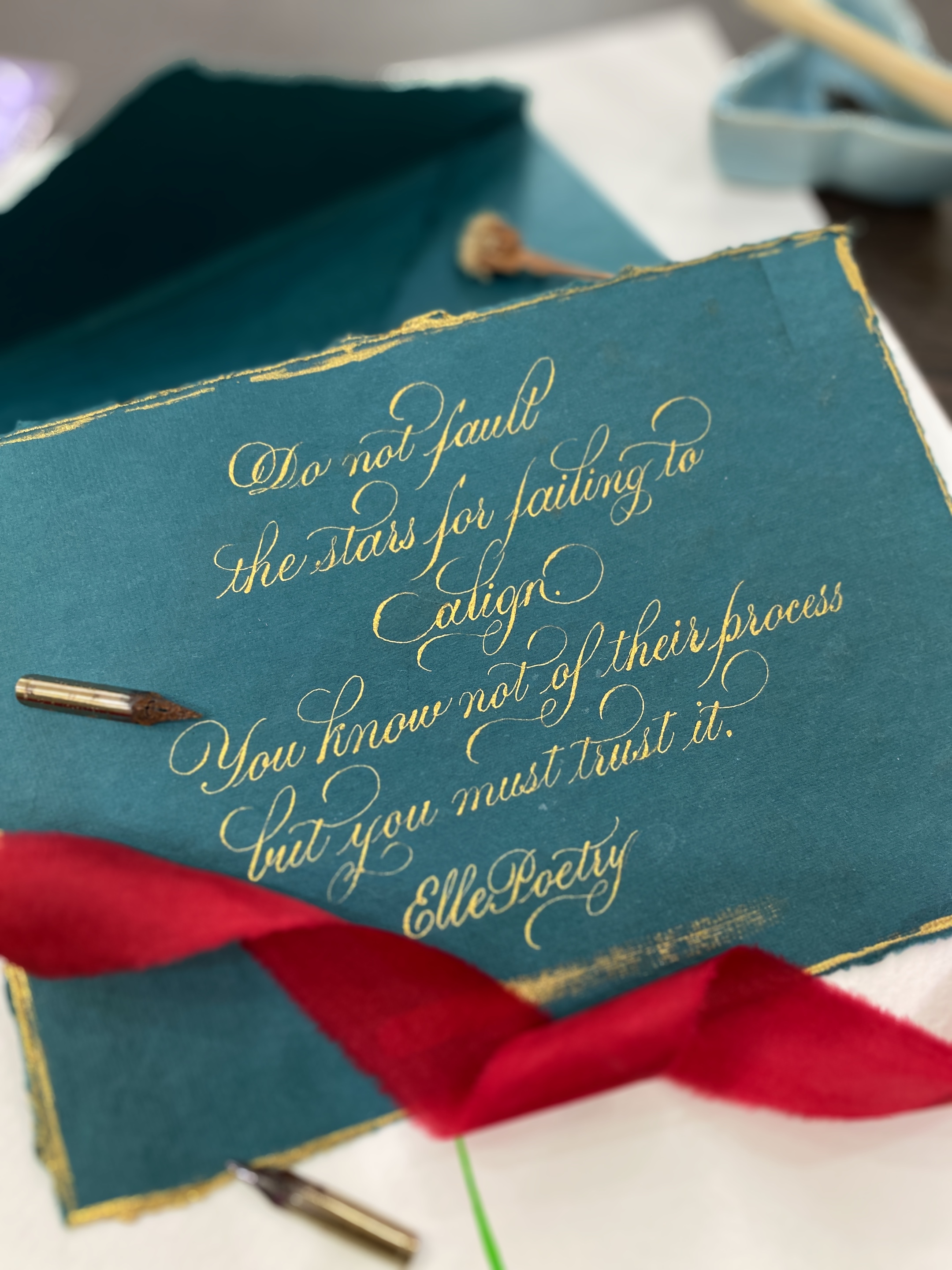 Who / Where do you take your inspiration from?
My biggest inspiration is nature. I am always inspired by the beauty of flowers and leaves around me. Even my first works were mostly themed around flowers, when I went on to do brush pen calligraphy. However, I cannot miss the old-world charm and vintage vibes in my work. It sure catches my attention and inspires me to create something that looks antique and rustic. This helps me to create memorable art works for my clients. I do have some favourite calligraphy artists who are always inspirational.
What in your opinion is the hardest and the most rewarding parts of working in a creative industry?
When something is your passion, the bumpy roads are smoothened by the thought of the rewards. However, you cannot overlook the struggles behind creating a piece that entices the onlookers. Especially, thinking of a theme is demanding, it's the first step, you can't go wrong!
Clients' appreciation really matters in the end.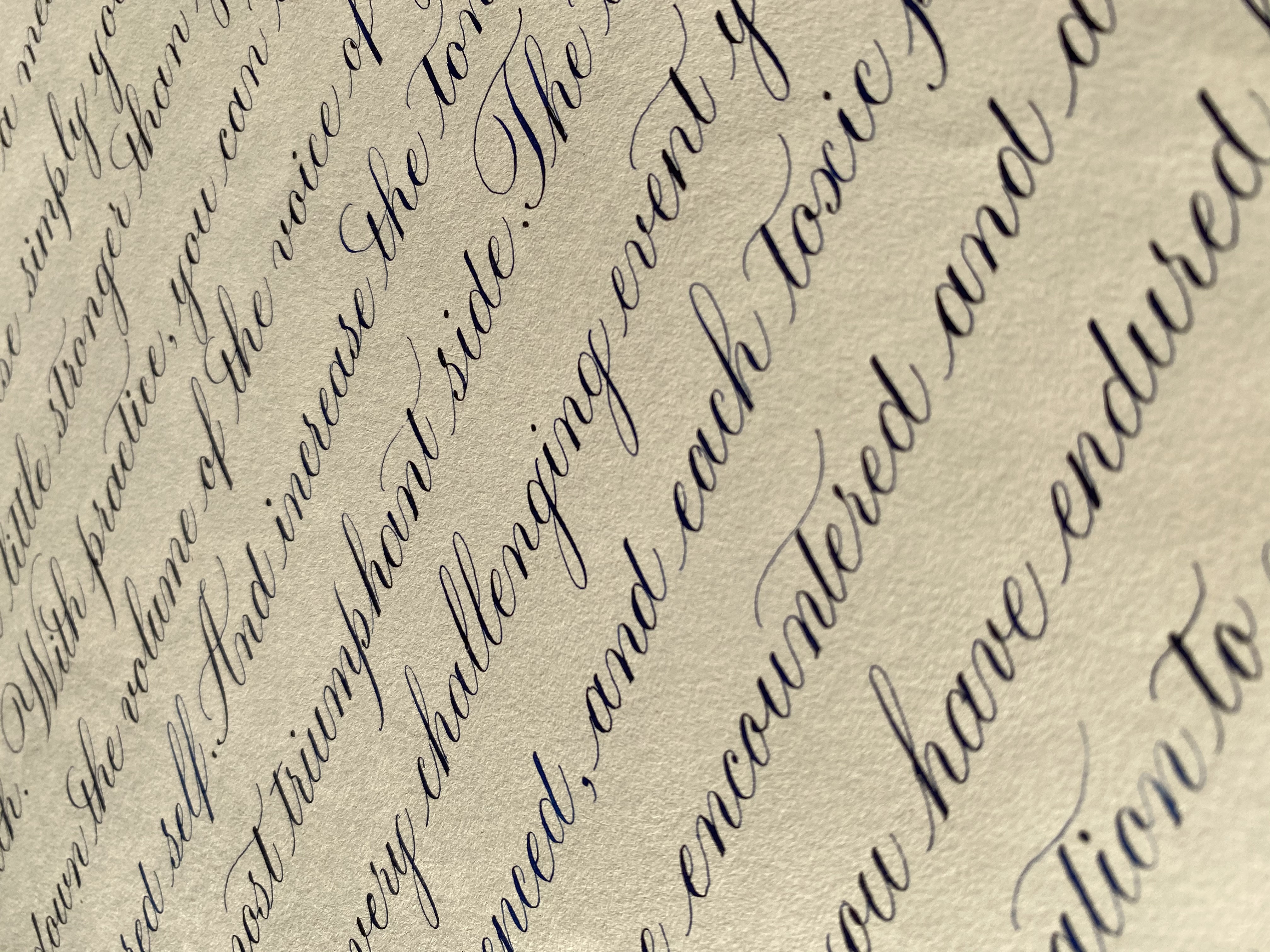 Do you have a favourite style?
Yes! As I already said I love the old-world charm a.k.a. vintage vibes. Copperplate script has to be one my favourites. I feel I can create an elegant timeless artwork with it. It is my clients' favourite too when it comes to invitations, letters and cards. I also adore the combination of Copperplate along with a bold script such as Fraktur.
What are the most exciting projects you have worked on and what are you working on at the moment?
I was recently commissioned to write a hashtag for a couple's 25th anniversary celebration that was displayed on the photobooth at the venue. It was absolutely thrilling to see my artwork in every picture they clicked. The joy of being a part of such happy memories is inexplicable. Currently, I am working on creating gift tags for wedding hampers. Apart from that, teaching calligraphy takes most of my time these days.
How does your work relate to your everyday life?
When I began, I never really expected calligraphy to relate to my life in general. But I am stunned by the way it has become an inseparable part of my life. Calligraphy is a stress buster for me. The entire journey of pursuing it from being an absolute beginner to an educator now has been a huge transformation. It has made me more patient, appreciate the beauty of the art form and has given me the courage to try new things and also to continue even if I fail. All these little things that I developed through calligraphy have impacted the way I approach things outside of calligraphy.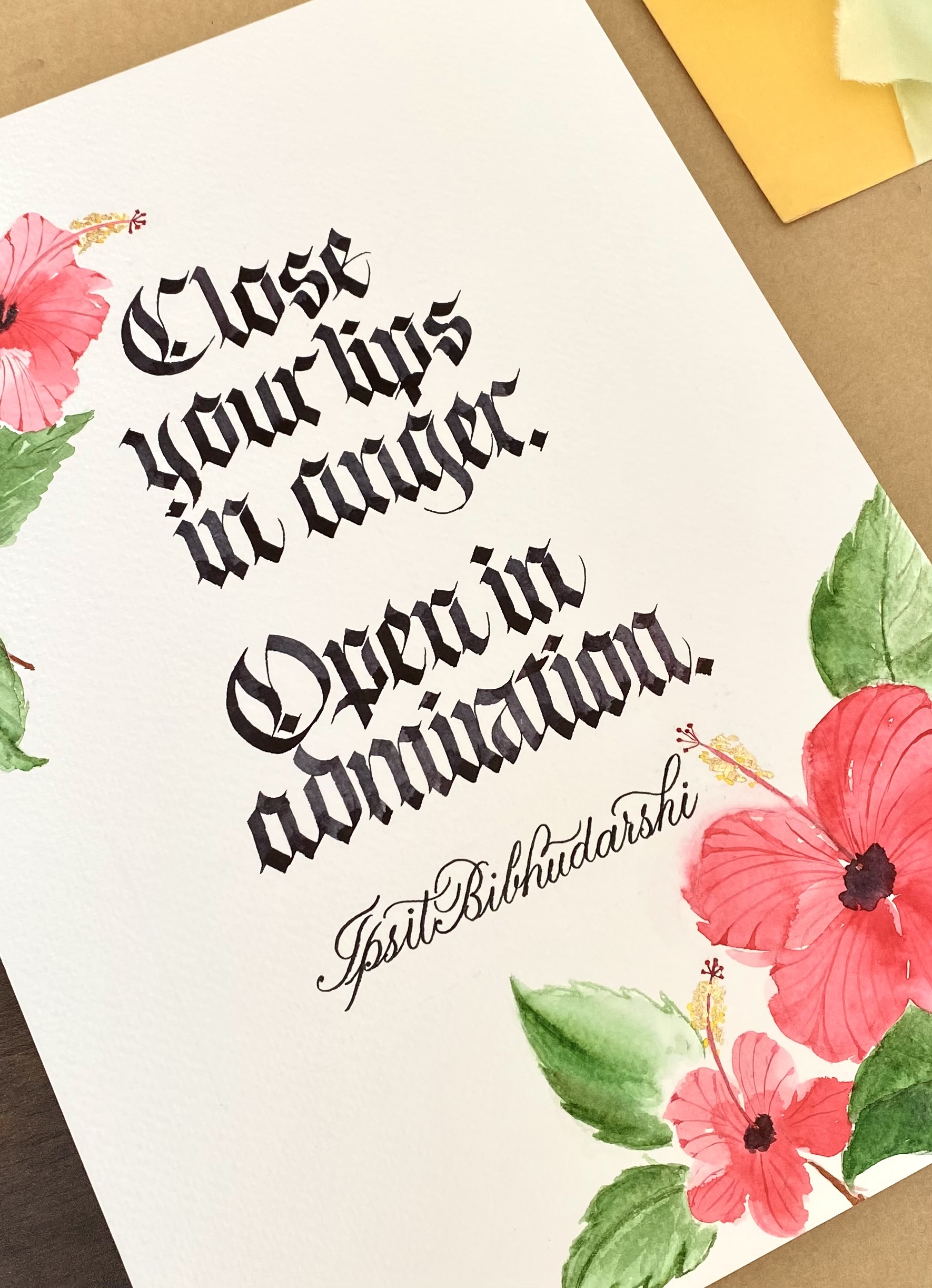 What are your favourite tools to use?
I absolutely love using dip nibs - be it pointed or broad edge nibs. The choice of the tool depends on the kind of vibe I want to lend to my project.
What would your advice be to people new to the creative industry and any tips on how to get started?
Never stop falling in love with the art form that you pursue. As much as we want to transform our passion to profit, the transition can bring in a lot of stress as with any job. Remembering why you started in the first place helps.
To begin with, invest in quality workshops and supplies. It will make your journey easy, saves your time and money.
To see more of Tarandeep's work you can follow her on Instagram. Remember to follow @manuscriptpenco on Social Media where we will be showcasing her work throughout the month.