What is your background and when did your passion for Calligraphy begin?
It started in my college days when I was going to the gym; one of the gym goers did calligraphy when he took a break during his workout. I asked him about this and then he started teaching me the basic things about calligraphy. After I was accepted for my Masters degree, I moved on to another city where I met someone who believed in my lettering style. She is the one who inspired me every day to make something new and to practice calligraphy, she is non other than my sweet, lovely, wife Teja. Now it's been 10 years and I am practicing calligraphy every day. Now I am doing calligraphy in copper plate style, Gothic, Fracture and some of my own design styles/scripts.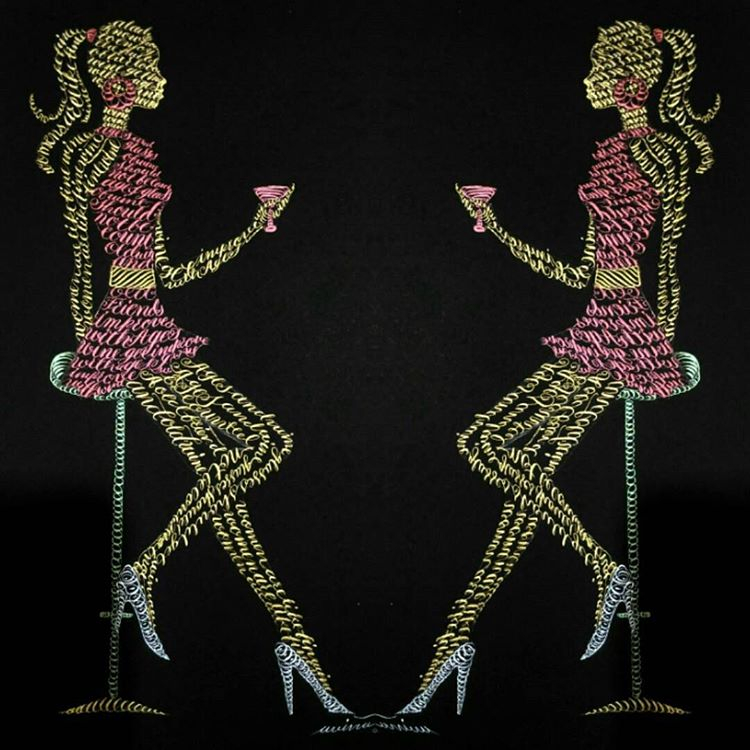 Who / Where do you take your inspiration from?
Well I have followed books and the master penmanship from the USA and the UK. Some of my friends from Singapore send me notes and e-books related to Calligraphy. My greatest inspiration is my Guru Mr. S.V.Pendse sir from J.J.school of arts in Mumbai. He first introduced me to the copperplate script calligraphy. Years of hard work and daily practice make my way easy to do such art form.
What, in your opinion, is the hardest and the most rewarding parts of doing calligraphy?
Nothing is hard or easy in calligraphy; anyone can achieve the master level with proper guild-lines and dedication in work. But still achieving the master level is not easy- the hardest things require years of experience and practice. It's kind of a magical feeling you get when you have done that and every one appreciates your hard work.
Do you have a favourite style?
Yes, I like the Copperplate pointed dip pen calligraphy. It's kind of rhythmic and gives you more satisfaction. This style of lettering, characterized by both thick and thin strokes, helps you develop the right hand pressure and control over steel nibs. It is also mostly used for invitation making, certificate writing and place card making for weddings - so it's kind of an earning source too.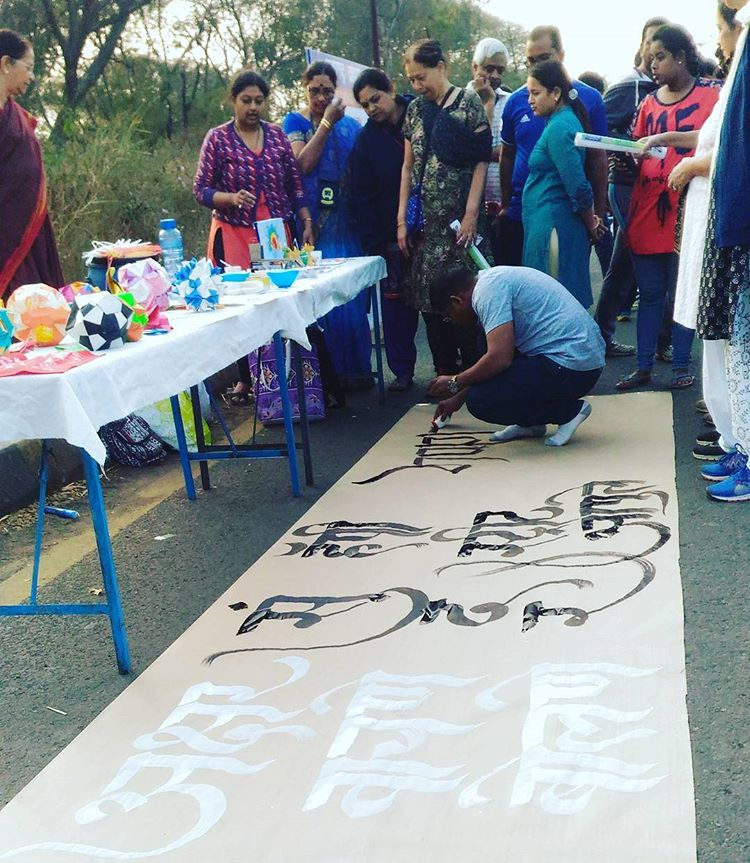 What are t

he most exciting projects you have worked on and what are you working on at the moment?

I am working on different projects all the time, in 2013 I developed the certificates for an international conference. These days I'm working on calligram art which is nothing but developing shapes from calligraphy. Recently I have featured in calligraphy Masters on Instagram for one of my calligrams.


Recently I have developed guideline sheets for ruling the line for copper plate calligraphy which makes it an easy and time saving process to make guidelines for practice. The good thing is that every one wants it and many of my calligraphy friends are using them and in very short time it's getting popular among other calligraphers. I have done many experiments on it before outing the product to the market
How does your work relate to your everyday life?
Well calligraphy is part of our daily life; believe it or not but we are surrounded by it. The number plates of our Car, the advertising banners in attractive lettering, the names of house in different fonts, The brand logos of many companies and our own handwriting is nothing but calligraphy. So we are all surrounded by calligraphy every day from we born. Calligraphy is my daily routine with new things developed every day in this field. Anyone can do it, that's the beauty of this art.
What are your favourite tools to use?
Well my favourite tools are dip pen nibs and dip pen holders. Along with this I used Manuscript's Feather dip pen. The wax seals from Manuscript are very lovely to send personalised letters. I use calligraphy pens from Manuscript plus the guideline sheets made by me. I use steels pen and automatic pens for doing Gothic script.
What would your advice be to people new to the art of calligraphy?
Most beginners who approach calligraphy thinking it is simply just writing with a dip pen and ink soon get disappointed when they find out that it's not as easy as it looks to control the nib and how the ink flows. Begin with the basics and practice daily to build your confidence with the tools and you'll have a much better result from it. The very basic thing is choose the type of calligraphy you want to do and find some examples of it done by masters or other calligraphers. It will give you an idea about shape, size and height of lettering that you want to produce. Draw the basic guidelines required for it - I know it will be time consuming but for that I developed my own guidelines. So anyone can develop it with script information. And the last thing is to practice everyday - it will help you a lot.