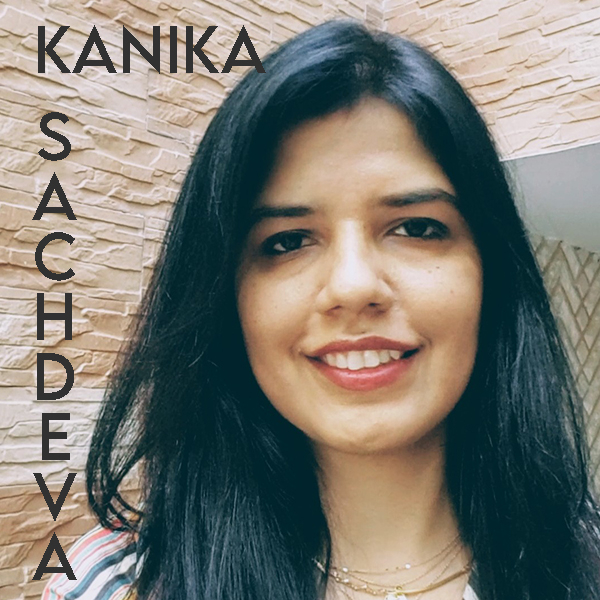 What is your background and when did your passion for calligraphy begin?
I am from a technical background. I am a civil engineer with masters in environmental engineering. I have always been doing sketching and painting since childhood. My interest in calligraphy began quite serendipitously, with a Google search in January, 2018. I had to write the word 'joy' on a post it note, to always remind myself to do more of what brings me joy. So to make the note, I searched online about 'how to write beautifully' and I came across many YouTube channels and blogs teaching faux calligraphy/brushpen calligraphy. I was fascinated by this new art form and started learning it on my own. Participating in daily calligraphy challenges on Instagram, gave me something joyful to look forward to everyday. The appreciation and support of the online calligraphy community gave me the motivation to be more consistent with my calligraphy practice and to keep exploring more. Also I feel what got me hooked to calligraphy is its' technical aspect of how each letter can be broken down into basic strokes. And if we master the basic strokes we can create really beautiful designs which appear complex but are in fact based on the smaller simpler strokes/elements.
Who / Where do you take your inspiration from?
I take inspiration from the work and teachings of various contemporary calligraphers like Nina Tran, Paul Antonio, David Grimes and Connie Chan who are really proficient in this art form. First I started with learning and studying calligraphy on my own. After that whenever it was possible, I have taken the opportunity of learning from many great calligraphers whose work I have always looked up to. I have attended the workshops of Paul Antonio and Barbara Calzolari, when they visited India. I have studied flourishing from Jake Weidmann and Madarasz's style of calligraphy from John De Collibus through their online courses. Currently also I am learning from David Grimes and Connie Chan's courses. Learning from such great people has taught me much more than the rules of calligraphy. Witnessing their passion and love for calligraphy and seeing their approach also keeps me motivated on this path. All my teachers are a source of inspiration for me. Studying and observing various historical resources, books and collections of the works of past masters like Louis Madarasz, and seeing what masterpieces could be created with just pen and ink also act as a source of inspiration.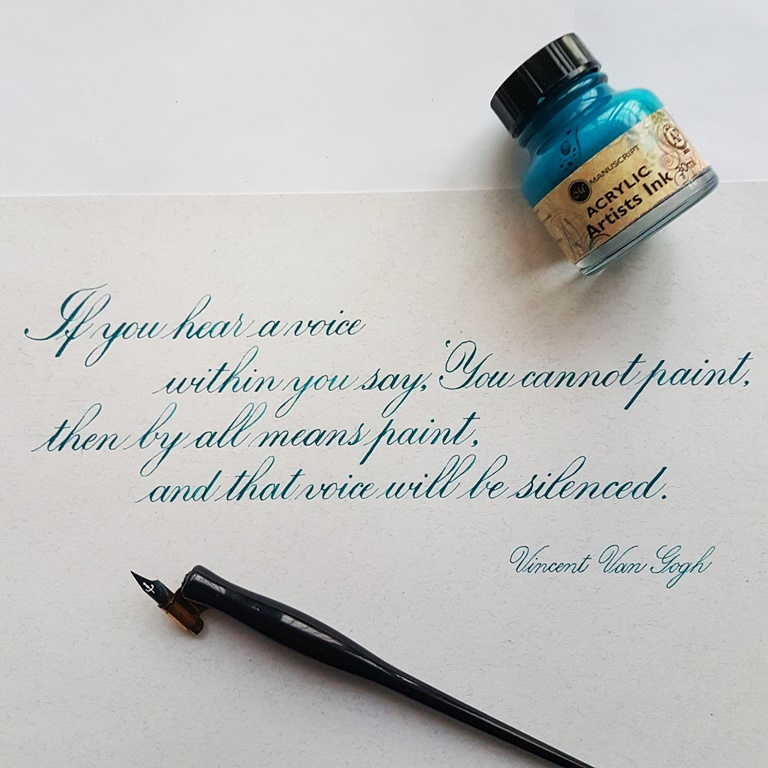 What, in your opinion, is the hardest and the most rewarding parts of working in a creative industry?
The hardest part is to be consistent even when you are not experiencing any progress. This is experienced in both the aspects of progress, in the art as well as progress in the business side. Sometimes it takes a lot of time to learn a new style and make it our own and many times even after being consistent we do not see any progress in our own work. At that time we have to choose to keep showing up, keep on studying , searching and practicing . Like we can see in our mind the correct form in which a stroke is to be made, but it takes a lot of time and patience to be able to actually produce it on paper. In the business aspect also it is sometimes hard to price something that you have put so much of yourself into and to market it and to find the right audience. But when you achieve progress in your writing, see the joy of a student who has learnt something new from you, and the joy of someone who has received something handwritten by you, all the effort is worth it.
The most rewarding experience is the joy of creating something. Calligraphy has also helped me connect with people from all over the world and people of different age groups and from different walks of life which might not have been possible otherwise. I also feel that creativity helps to keep the child in you, and the eagerness to learn and explore more, always alive. Practicing calligraphy has also made me aware that there is no such thing as perfection, there will always be something new to learn.
Do you have a favourite style?
Mostly I like the pointed pen scripts. Copperplate calligraphy has been my all-time favourite. I am also learning scripts like engrossers and spencerian these days. And gilding and illumination is also something I would like to try.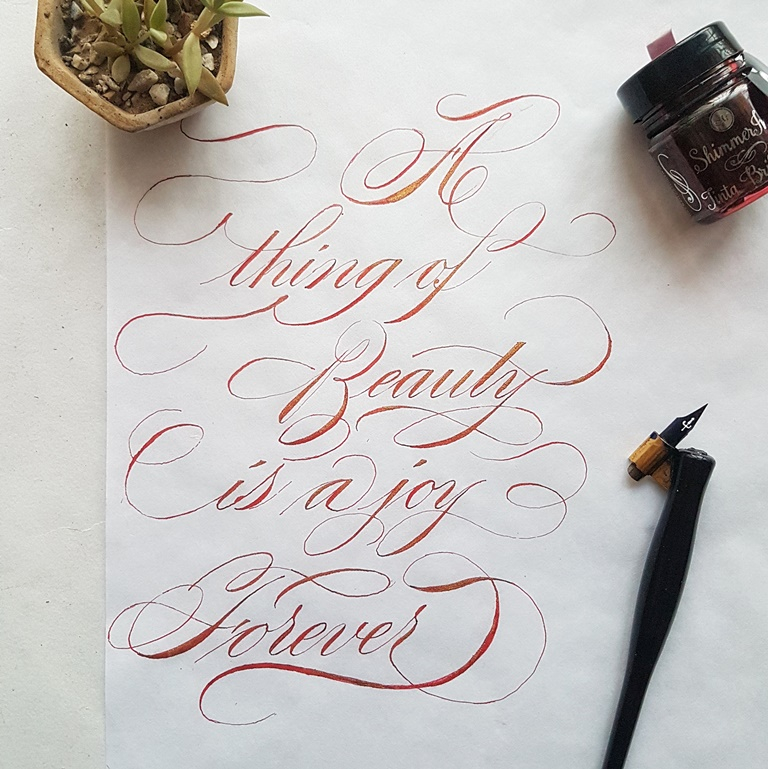 What are the most exciting projects you have worked on and what are you working on at the moment?
I find designing the workbooks for my calligraphy classes and teaching exciting because you have to take everything that you have learnt and present it in a step by step form to help the students get introduced to this art form. I get to share many things related to technique and materials which took me a lot of time figure out, this helps the students save a lot of time and to focus more on learning. Also I feel many people give up calligraphy at the beginning stage or never start, because as a beginner it is difficult to figure out everything on our own and the tools and materials are completely new to them, so learning through workshops is helpful, as it gives them the proper guidance and support system to start, what they have to focus on is just practice and implementing what they have learnt.
Designing a completely handwritten wedding card has also been an exciting project for me. Centring everything, deciding different line widths to fit within the paper size, finalizing the colours takes many trials. Also making the final piece is exciting and challenging at the same time because one mistake or smudge may lead you to starting all over again.
Currently I am teaching copperplate calligraphy and brush pen calligraphy through online or in person workshops. I am also learning new scripts like engrossers and spencerian from David Grimes and Connie Chan's online courses, so most of my time goes in studying and practice.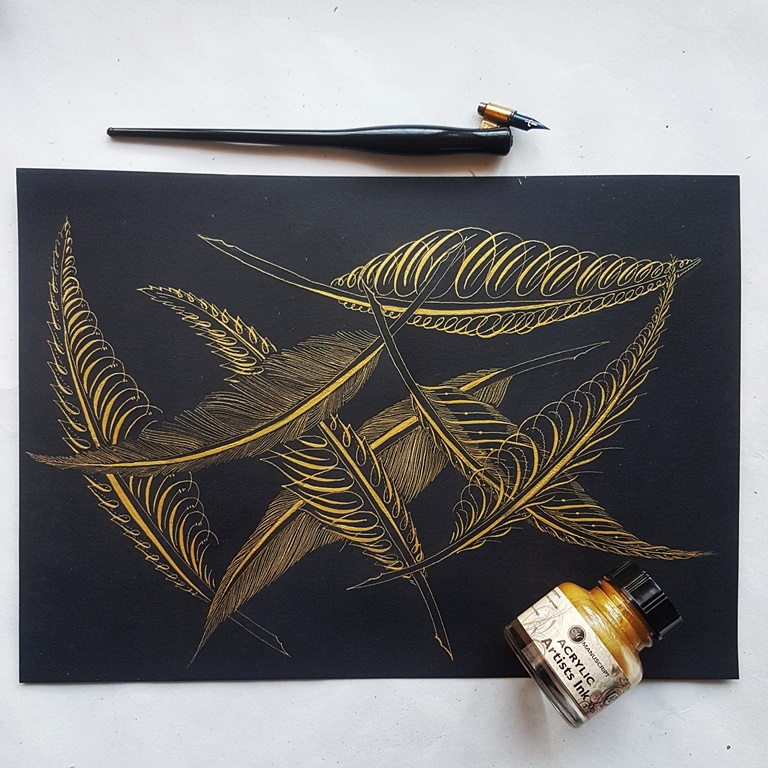 How does your work relate to your everyday life?
Practicing calligraphy has definitely helped me to be more patient and to be more present and to observe more. It's the other way round also. Like the type of script I choose to write a particular day, whether it's a shaded script like copperplate, madarasz style or spencerian, and what words or quote I choose to write depends on my feelings about that day and is influenced by what is going on in the world around me. The way in which something is written always shows the temperament of the person writing them. Penmanship or any creative work is so closely related to what you are thinking or feeling that you have to allow it come through without much thinking as otherwise you won't be able to create.
What are your favourite tools to use?
I like to use oblique holders with a removable flange as it is easier to adjust a removable flange so that the nib is properly aligned while writing. In nibs my favourite is Leonardt Principal EF as it gives good swells as well as fine lines. When it comes to inks, Sumi ink is one of my favourites.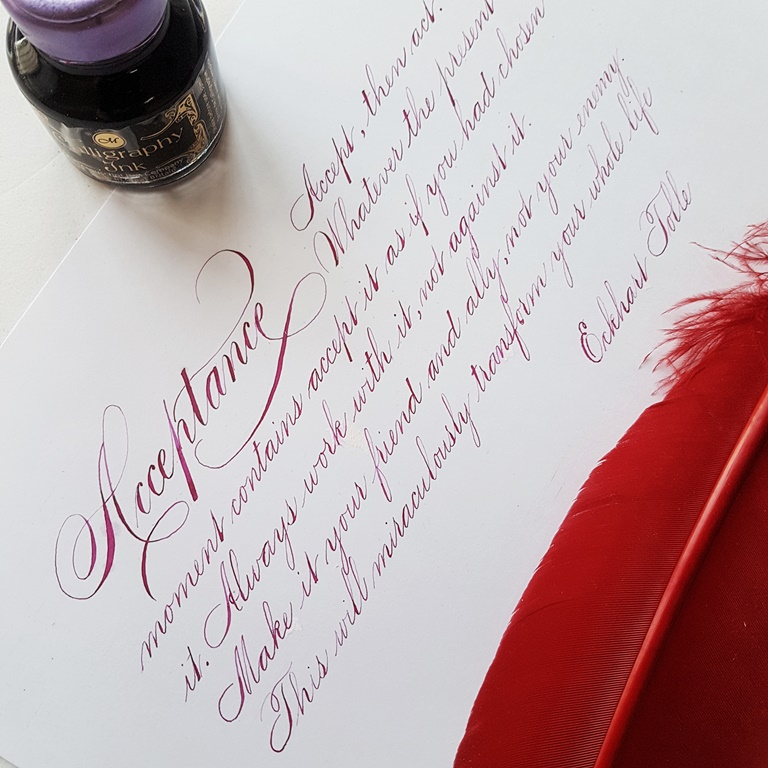 What would your advice be to people new to the creative industry and any tips on how to get started?
For someone who has just started exploring a creative field I would say start creating without fear of judgement, explore more and share your work more. There is an audience for every kind of art. For someone who has been pursuing an art form for quite some time I would suggest figuring out what your enjoy more – i.e commission work or teaching an art form to other creatives and then proceed accordingly. For someone who wants to take up commission work it is better to share samples of their work online. If you want to teach, then it is better to start sharing some knowledge, some tips and tricks through online tutorials.
Also it is important to be consistent with your practice and enjoy the process. Believe in yourself and support yourself. You have to be your biggest motivator.
To see more of Kanika's work you can follow her on Instagram @klikbykanika or check out our inspiration gallery HERE!